Back to Penobscot Bay Clam Survey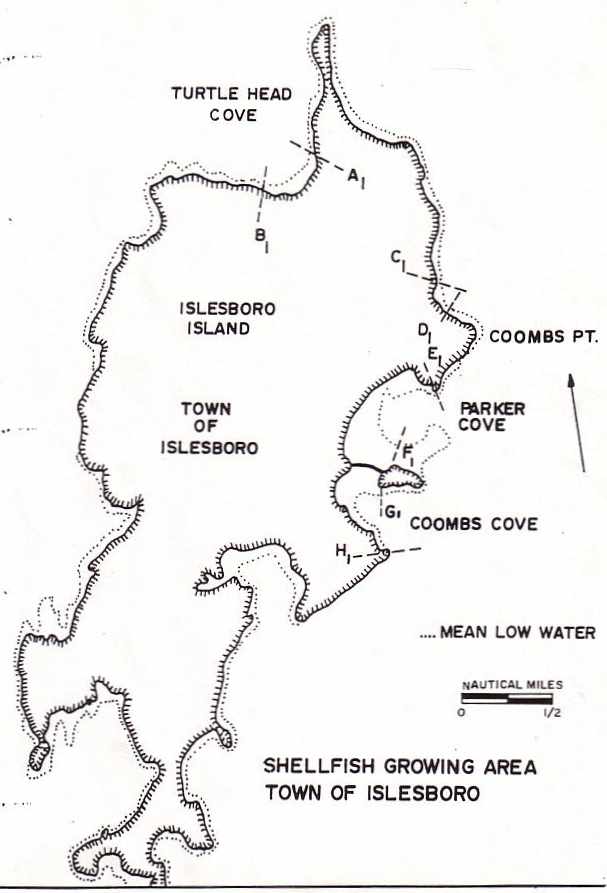 Softshell Clam Survey of Upper Penobscot Bay, 1966-67
ISLESBORO
Turtle Head (text missing.)
Coombs Point The area of Coombs Point surveyed for clam resources was very small. The amount of growing area available in this plot was 5 acres, and, since the flat was uniform in nature and lacked any rocky feature, it was unnecessary to make any adjustment. The total area surveyed remained at 5 acres. Because this flat was of such a uniform condition and the shellfish were dispersed in an equally uniform manner, it was only necessary to collect 3 shellfish samples to arrive at a commercial standing crop of 1,600 bushels. The potential community value from this area is $30,500 to $86,400.
Parker Cove (E1 - F1) This cove is located on the east side of Islesboro Island and is separated from an adjoining cove by a small island connected to the main island by a narrow bar. The entire cove was not surveyed for shellfish due to time limitations and the general lack of shellfish on the flats northeast of the small island.
The intertidal zone of Parker Cove investigated during this survey consisted of 85 acres. Adjustments were necessary to this trial because of the presence of large patches of eel grass and mussels. The actual number of acres available for clam production amounted to 73. Sixteen shellfish samples were collected over rather large intervals.
The resulting estimated standing crop was 3,400 bushels of commercial sized clams with a value to the community from $65,300 to $183,000.
Coombs Cove (G1 - H1 ) This cove is located just south of Parker Cove on the east side of Islesboro Island and contains a great deal less available clam flats than its northern neighbor. Estimates of land area by planimeter show an intertidal zone of approximately 36 acres, No adjustments were deemed necessary to account for the small amounts of mussels and eelgrass. Thirty-two (32) shellfish samples were collected from this cove on the 9th of August, and the resulting estimate indicated the potential standing crop of commercial size soft-shell clams to be a poor 700 bushels with a community value of $12,600 to $37,800,
ConclusionThe only cove in the surveyed portion of the Islesboro Island showing reasonable clam production is Parker Cove.
text missing
Results of the soft-shell clam resource survey in the Town of Islesboro show a total standing crop of 6,800 bushels with a community value from $130,500 to $367,200.