ATLANTIC COAST-WIDE ALERT According to Salem Sound Watch, ALERT: Chinese Mitten Crabs (Eriocheir sinensis) have been found in Chesapeake Bay (2005-2007), Delaware Bay (2007), Hudson River (2007-2009), and New Jersey (2008 - 2009. Saltwater AND freshwater. See one of these? Contact DMR immediately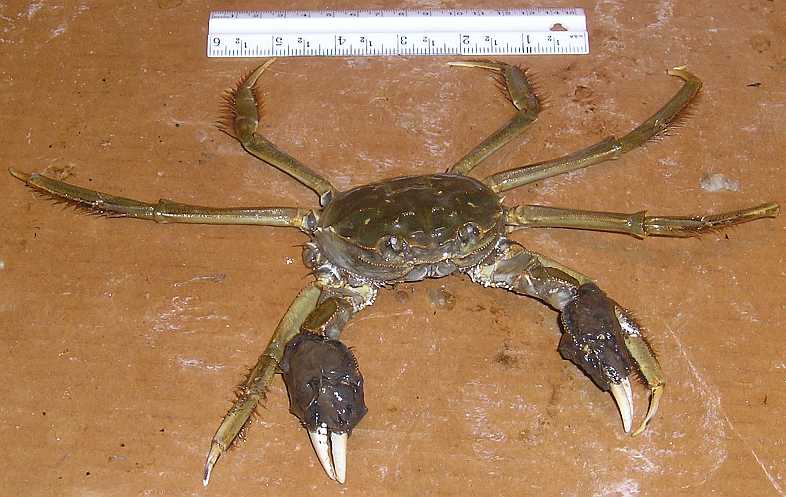 Seasquirt 'Didemnum' infesting Georges Bank, Maine Coast.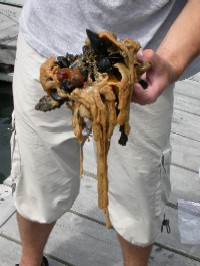 2010 updates from Woods Hole
Government Reports on the Squirt Infestation
3/24/08 Media Report: Squirts Now infesting Puget Sound
MARINE INVASIVE SPECIES OVERVIEW
New England Marine Invader Database .
* State of Maine's Action Plan for Managing Invasive Aquatic Species. September 2002
* Bath Iron Works' letter on the fate of exotic species found on its Chinese-built drydock.
SERC Ballast Water Policy Issues Package
* Invasive Phytoplankton in Ballast Water North Carolina ports find numerous exotic microalgae in cargo ships' ballast water.
* Links to more information about invasive species
August 11, 2003 Monhegan Island forests being overrun by invader species Japanese Barberry.
August 5, 2003. US Coast Guard to set tough new mandatory ballast water discharge regulations: Your input needed now to ensure strongest regs possible! Deadline October 28th.
Update March 26, 2008. Ballast Water Breakthrough?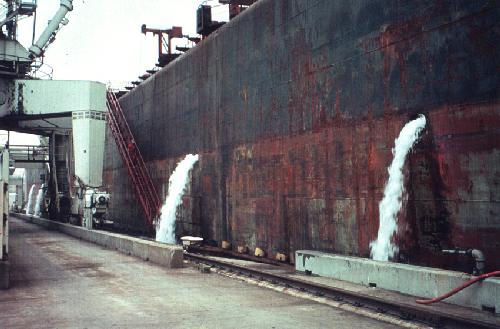 Building a better ballast trap? Now another team is taking a bite at the ballast water apple. A University of Michigan design incorporates flow-thru ballast tubes into the ships' hull, running the length of the ship. Water in ship is always the local water of the moment.
Each year, the approximately ten thousand ships involved in global commerce together take up three to five billion tons of ballast water in one part of the world and then discharge it into a harbor on another coast or in coastal or offshore waters. This "oceanic conveyor belt" transports billions of organisms around the globe has contributed to major declines in coastal marine biodiversity
In 2004 The IMO adopted the International Convention for the Control and Management of Ships' Ballast Water and Sediments. This convention mandates that, as of 2016, all ships must have approved treatment equipment installed on board. About 10,000 ships of the current world fleet could be required to install the OceanSaver system or something similar.
July 17, 2006 Invasives Ecologist David Delaney's work continues.
Delaney is spending July 2006 surveying Asian Shore crab populations along the Maine coast.
From July 26-July 30th Delany will be surveying areas of Penobscot Bay.
Join the Penobscot Bay Watch, Pen Bay Stewards and East Penobscot Bay Environmental Alliance as they work with Dave to find out how infested Penobscot Bay is with this invader. Surveys will be taking place on Deer Isle, and the shores of Belfast, Searsport, Rockland and Owls Head. Interested in taking part? No experience needed day. All equipment provided. Contact Ron Huber at 975-0655 or by email coastwatch@psouth.net SPEND HALF A DAY TO PROTECT THE BAY!!!
2005 REPORT. July 22, 2005. David Delaney of McGill University reports a member of his citizen science monitoring network found a 22 mm female Asian Shore Crab on the north shore of the Schoodic Peninsula. Alarmingly, the found organism was a gravid female with only a few eggs remaining. "To my knowledge," Delaney writes, "this is the furthest north that the invasive crab has been confirmed. Does anyone know if there are more northern identifications of H. sanguineus?" .
Update Sept 3, 2004 Preliminary information has arrived from a Cornell University-led team of field researchers investigating the movements of Asian shore crabs (ASC's) aka Hemigrapsus sanguineus along the Maine coast. While cautioning that their data is still not fully reviewed, they were willing to state that
"numbers in southern Maine have slightly increased, but Hemi has not spread further east, and the furthest east collection site is still Isle au Haut. We came up empty in eastern Penobscot Bay, around MDI, and in Washington County."
Update June 21, 2004 Isle au Haut was the farthest east that ASC's were detected. "Quite a few." on the island in 2003 On mainland, Owl's Head is farthest north for ASCs in 2002, (none in Summer 2003).DETAILS