Back to Sears Island Reports & Documents
Maine Coast Alert * Maine Coast Alert * Maine Coast Alert
LNG tankers could require reductions in Penobscot Bay lobsterfishing
Lobstermen plying the nation's richest lobster grounds would face time and area closures over 40 to 70 square miles of Penobscot Bay is a liquified natural gas port is built on Sears Island. The changes in fishing could cost millions in lost fishing revenue for west Penobscot Bay fishermen from Port Clyde to Searsport. What YOU can do.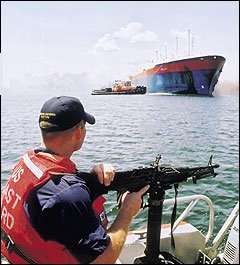 The losses would be due to the Coast Guard-enforced evacuation of a rolling 1-2 mile security zone fore and aft of each liquified natural gas tanker as it transits 52 miles through Penobscot Bay, site of America's richest lobster grounds to reach Sears Island. Depending on the Homeland Security threat level, the closure to port and starboard of each Liquified Natural Gas carrier would extend from 1000 feet to a mile or more.
The Department of Homeland Security is concerned that LNG vessels travelling the length of the bay to Sears Island could become a target for terrorists, who might use a lobster boat or other fishing boat as a suicide attack vessel or weapons platform.
The rolling security closures around each LNG tanker as it lumbers up then down island studded, frequently narrow west Penobscot Bay could create economic and navigational havoc in and off Knox and Waldo counties. According to the Department of Marine Resources, in 2002 county residents from Port Clyde to Searsport reaped a 63.2 million dollar lobster harvest from those very waters. Using standard economic multipliers, the $63.2 million dockside dollars generated roughly $151 million dollars of economic activity in the surrounding communities.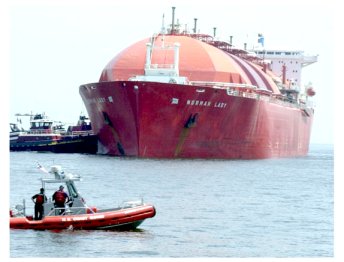 A 15% decline in lobster fishing due to the forced evacuations of large areas of their fishing grounds up to five times weekly would mean a nine million dollar bite out of the Knox and Waldo county lobstermen's pockets every year, and a $20 million/year decline in the economies of the two counties' towns.
And that's not all. According to Jim Merryman of Fishing Families for Harpswell, a group of fishermen who fought off a similar proposal in Casco Bay, in addition to lost fishing time, the tankers and their escort vessels (2 tugs, two coast guard boats) could cause substantial lobster gear loss by severing buoys and by wrapping traplines in their propellers. Lobstermen who routinely fish as close to the Penobscot Bay ship channel as possible, will find this out the hard way. While a mitigation fund would be set up by the LNG company to pay for lost gear (not lost fishing time), fishermen would be unlikely to make of use of it more than once. After spending the large amount of time and effort to make and collect a claim, many a lobsterman will avoid the hassle by just not fishing that spot any more. The company will have effectively "taken" those grounds.
Combine lost fishing time and lost fishing gear, and it becomes clear that gas tanker traffic to a port on Sears Island would cost west Penobscot Bay lobstermen from Monhegan to Searsport roughly ten million a year.
Why is all this happening? According to documents gained from a recent Freedom of Information request of Maine Governor Baldacci, at least two large energy company is negotiating with the state to buy all or part of Sears Island in upper Penobscot Bay to build and operate an Liquified Natural Gas port and regasification plant. The plant would warm the liquid gas into its gaseous form and then send it by overland pipeline to the Maritimes and Northeast pipeline in Winterport..
WHAT YOU CAN DO Write, call, fax or email Governor Baldacci and let him know that the Penobscot Bay lobster fishery is too important to be disrupted by LNG tankers travelling to a big gas plant in Searsport. Do the same with Senator Olympia Snowe, and every other politician you know of with pull in Washington and Augusta.
* Governor John Baldacci governor@state.me.us State House Station 1 Augusta Maine 04333. Tel (207) 287-3531 FAX (207) 287-1034
* Senator Olympia Snowe olympia@snowe.senate.gov (800) 432-1599 FAX: (202) 224-1946. US Senate postal mail is still slowed way down while being tested for anthrax, so she advises fax , phone and email as the best way to communicate.
End
Penobscot Bay Watch: People who care about Penobscot Bay
.
Back
END