Back to Sears Island Portal
Back to Penobscot Bay Blog
Maine Legislature's Transportation Committee decides to condition MDOT's Sears Island Conservation Easement on port applicant acquiring permits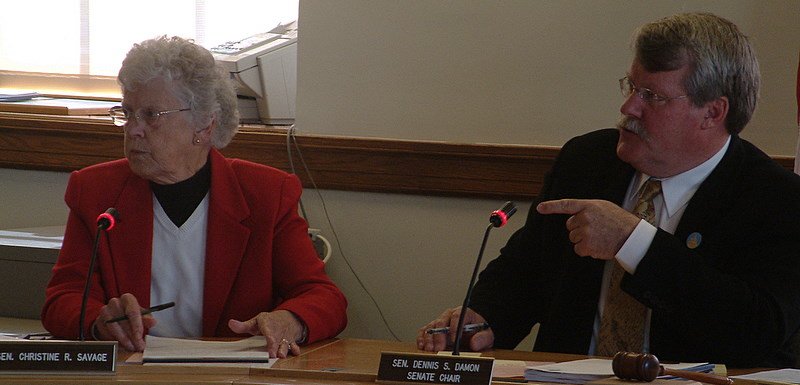 Audio recordings of speakers at the November 18, 2008 meeting of the Legislature's Transportation Committee in Augusta. At the meeting Committee accepted the final report of Sears Island Joint Use Planning Committee, but voted to block MDOT from granting Maine Coast Heritage Trust a perpetual conservation easement over 2/3 of the island until a port developer had acquired all its development permits to build a containerport on the west side of the "protected" island. Listen to each presentation, discussion and the final decisionmaking. MP3s.
James Gilway, Town of Searsport
Scott Dickerson, Maine Coast Heritage Trust
Robert Grindrod, Montreal and Maine Railroad
Karen Tilberg Maine Dept of Conservation
Committee discusses Senator Savage's proposal
Committee continues discussion
Transportation Committee takes final vote on proposal
Get a single recording of first half (52 minutes) of 11/18/08 Transportation Committee hearing (mp3)
BACKGROUND INFORMATION
Audio recordings of the June 25, 2008 public meeting Sears Island Joint Use Committee
Brian Nutter, MDOT, and others discuss Sears Island "4(f)" issue at JUPC meeting 2/8/07.